Join the Helix Steel Team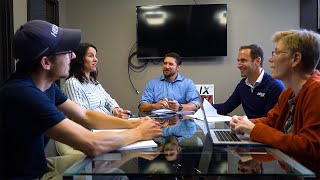 If you believe in making things better through innovation, creativity and hard work, then Helix Steel may be the place for you. We encourage you to consider joining our socially and environmentally responsible team to help sell, produce and distribute our proprietary concrete reinforcement product around the world.
Helix Steel is a place to grow your skills, work in a team, be valued for your contributions and change the world.
Are you willing to learn? Can you rise to the challenge? Do you have a passion for work? Continue reading about the benefits of working here, and apply below. We look forward to communicating with you soon!
Some of the Benefits of Working at Helix Steel
Proudly Michigan
Our innovative product line was founded here in Michigan, with our main office and manufacturing centers based in Grand Rapids and Ann Arbor.
Life Insurance and Disability Support
Find comfort in knowing that Helix Steel has your health covered with short-term disability, accidental death and dismemberment, and life insurance. The cost of these is fully paid for by Helix Steel, with full-time employees becoming eligible after 30 days.
Paid Lunches
You are compensated for all of your time spent during work hours, including lunch time. We also provide employees with public transit benefits to ensure the entire employment process is seamless.
Medical Plans
Helix Steel employees can take advantage of our comprehensive health care programs that cover medical, prescriptions, vision and dental services. This is available for all full-time employees after only 30 days.
Employee Rewards
When the team meets their goals, our employees benefit as well.
401k Plan
We care for our employees during their career at Helix Steel as well as after, with a 401k Plan through ADP Retirement Services. All full-time employees are eligible for this after 90 days.
Opportunities for Students
Helix Steel welcomes post-secondary internship opportunities, and encourages further learning for full-time employees through an educational program allowing for tuition reimbursement for a variety of courses. We have flexible summer, part-time and full-time opportunities, depending on your skills, knowledge and aspirations.
Scholarships & Tuition Reimbursement
Students aged 18+ who complete a minimum of one summer of employment with Helix Steel can apply for a $1,000 scholarship. Be sure to contact us for more information on this program.
We Would Love to Learn More About You
Although your ideal career may not yet be open at Helix Steel, we would like to keep your information on file if a need for your skills arises. Please complete the form below.
Please note: we are only accepting applications from people who are legally authorized to work in the United States.