Mission Statement:
"Helix Steel leads the construction industry in providing better ways to build with concrete in a rewarding environment for our employees and community."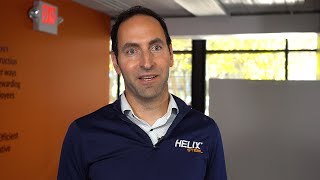 Our Company
Since 2003, Helix Steel's talented team of American innovators has been revolutionizing the construction industry through concrete reinforcement leadership and education. Along with offering superior products, we take a people-focused approach to make concrete better by providing live support from design to installation.
Helix Steel is best known for its flagship product Helix® Micro Rebar®, which has been used in more than 40,000 projects and has been demonstrated to improve the resiliency, ductility and strength of concrete to resist concrete crack formation.
We proudly manufacture our entire line of products in Grand Rapids, Michigan and distribute them worldwide. Here at our manufacturing center as well as our Ann Arbor, Michigan product support center, we have an inventive culture focused on creative thinking to make the entire industry better. With your support, Helix Steel looks forward to furthering sustainable development in the concrete industry.
At the Core of Helix Steel


Employees
Helix Steel provides a rewarding environment for our employees. Salaries are above living wages for individual workers in our area, we promote from within where possible and we offer a wide range of benefits.


Community
We are actively engaged in the communities that we work in. Helix Steel seeks to have a diverse work force and continues to grow our personnel, most recently estimated at 30% annually. Helix Steel also strives to source products domestically and contribute to local charities.


Environment
Helix Steel is committed to excellent environmental performance. We have shipping and packaging policies that ensure low impact, our manufacturing facility uses electricity generated from renewable sources and even our product line itself reduces the amount of steel in construction projects. Helix Steel aims to achieve carbon neutrality by 2050.


Customers
Everyday, Helix Steel provides customers with a "better way to build". The quality of Helix Steel's product is important to ensure the structural integrity of the final construction, thus our factory is ISO9001-2015 accredited, our processes are regularly audited, inbound materials are tested for compliance and our products are reviewed by third-party agencies.


Governance
Pensmore Reinforcement Technologies, LLC (d.b.a. Helix Steel) is a privately held LLC. It
is managed by a Board of Managers. The company has a management team that runs day-to-day operations and is led by Luke Pinkerton, who as President reports to the Board.